Once a year, we ask for your support to keep this blog going. We're running our fundraising campaign until Saturday, July 15.  Help Us Get to Year 10!
Posted: 4:51 pm PT
Follow @Diplopundit
On July 12, the Senate Foreign Relations Committee finally cleared Mark Green's nomination to be USAID Administrator. Also see Trump to Nominate Former Ambassador Mark Green as USAID Administrator (May 11, 2017);  Expected USAID Pick Ex-GOP Rep Mark Green Lost in the Trump Jungle.
Ambassador Green appeared before the Senate panel on June 15. Click here for the hearing video and his prepared testimony.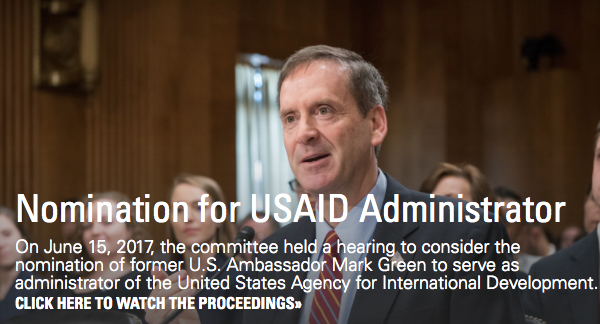 AND NOW THIS —
#
Posted: 12:18 am ET
Follow @Diplopundit
Via Politico:
Former GOP Rep. Mark Green is the Trump administration's expected pick to lead the United States Agency for International Development, but has struggled to close a deal with the Trump administration, according to four sources with knowledge of the talks.
[…]
Green has been frustrated by his dealings with Secretary of State Rex Tillerson and other Trump officials, the sources said. In addition to wanting the title of USAID administrator, Green is also seeking to be named to a high-ranking position in the State Department. And he is seeking promises that Trump won't dismantle USAID or make it a subsidiary of the State Department, a move that's feared by people in international development circles as a way to sideline foreign aid.
Green made the case to White House Chief of Staff Reince Priebus that he wanted the dual title of USAID administrator and a deputy slot with an office on the 7th floor, and was led to believe that the White House had given him those terms for accepting the job, according to a source close to State.